Often, I hear people talk about how the new goal of marketing is lead generation and I can't help but think "hasn't that always been the goal? The only difference is that today, we have tools in place to be able to see how effective we are in generating those leads.
Studies show that only one in 10 professional marketers describe their lead generation efforts as "highly efficient and effective." I don't know about your boss, but I know mine would say "that's not good enough"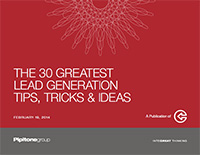 There's a glut of information available to us now about how to make our marketing efforts more effective. Whether its thinking about content, developing more enticing calls to action, developing effective landing pages and forms, etc. can be overwhelming to say the least.
Thankfully, HubSpot has compiled the 30 greatest lead generation lessons into a guide so that you can learn the secrets of how they generate more than 70,000 leads per month, and as a HubSpot Certified Partner Agency, we get to share it with you.
Download The 30 Greatest Lead Generation Tips, Tricks & Ideas
Tips, Tricks & Ideas
These 30 tips, tricks and ideas will teach you:
What makes killer performing landing pages
The best lead-generating content
How to create offers that are impossible to ignore
Secret website optimization tips with A/B testing
...and more!
This is your guide to start generating more high-quality sales leads today. Get your free copy!