For 11 consecutive years, Pipitone Group has proudly partnered with our building products manufacturing clients to develop impactful advertising that has been awarded recognition at the Architectural Record Advertising Excellence Awards. This year, the awards took place June 24, and Pipitone Group had the honor of celebrating three of our building products clients – Vitro Architectural Glass, Bobrick Washroom Equipment and Koala Kare Products – who took home a total of nine awards for single-page print ads, a spread ad, digital placements, integrated campaigns and social media engagement.
During the virtual event, this year's panel of judges identified the criteria they used to assess the advertising that ran in Architectural Record magazine and on their digital properties between January and March 2021. Below are seven key takeaways to keep in mind when designing advertisements for architects:
Picture Perfect: The adage "a picture is worth a thousand words" is absolutely true. Ads with sharp, clear photography consistently impress architects in both print magazines and online – especially when the photo shows a product in a compelling environment.
Be Cheeky: Showing a sense of humor or ingenuity in advertising is especially eye-catching. Don't be afraid to be funny or even irreverent, as it can be especially helpful in standing out among dozens of straightforward ads in what are typically very serious architectural magazines. Try to make your audience look twice!
Show and Tell: Finding a way to show a product in its environment with limited copy usually makes a good impression with architectural audiences, who often remark that they would in fact prefer to see less copy in advertising. Aim for simplicity in the information being given.
Keep it Simple: "Crisp, clean and simple" is frequently how an architect might describe the ideal look and feel of an advertisement aimed at them and their peers. Using a combination of images and copy that don't overwhelm visually is a very traditional path to success, yet a very effective one.
The Headline: This year especially, the panel of judges remarked that an attention-grabbing headline was what made the difference between an award-winning ad and one that didn't make the cut. However, remember that architects are designers and value visual design, so typographical decisions such as font, size and color are major factors – not just the copy.
Design Forward: As designers, architects appreciate thoughtful design all around: the balance of photography, typography, composition, and even the "texture" of the ad matters. Successful advertisements should communicate the essence of the product through the overall design.
Props for Projects: Architects appreciate the work – not just the product. Selecting quality photographs of impressive and appropriate projects helps communicate the potential of the product being marketed. To help yours stand out, consider using photographs of a project that aren't otherwise used in other coverage or present a more unique angle.
Bonus tip: Several panel judges shared that they don't enjoy being conspicuously advertised to, but they do turn to both print magazines and digital spaces like magazine websites and social media platforms for inspiration. Of course, they want to see good examples of products in use and new work that communicates its value, but where does that leave advertisers?
Content marketing is key. Successful building product marketing campaigns are those that provide architects with valuable content they want to see, where and when they want to see it.
Award-Winning Work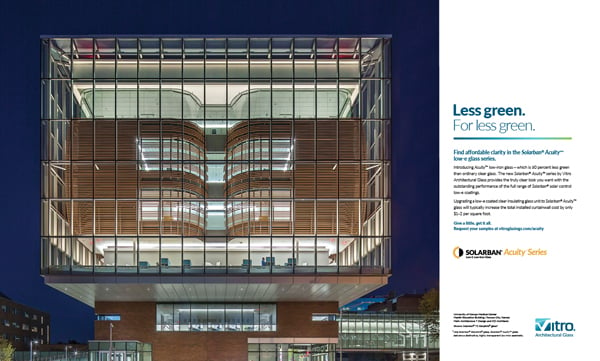 Solarban® Acuity™ Campaign, Vitro Architectural Glass
Spread Ad Winner
Best in Class Integrated Campaign Winner
Digital Ad Honorable Mention
Top Three Native Social Post (Third Place)
Most Engaged Facebook Post (Third Place)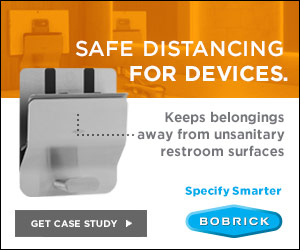 Klutch digital advertising, Bobrick Washroom Equipment
Best in Class Digital Ad Winner
Most Engaged Twitter Post (First Place)
Most Engaged Twitter Post (Second Place)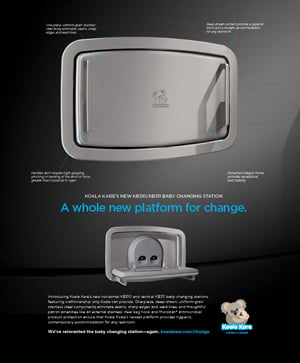 KB310/311 Product Launch Ad, Koala Kare Products
Single Page Ad Honorable Mention