Susan joined Pipitone Group in July 2021 with 30 years of digital marketing, IT and ecommerce experience. Read on to learn more about what makes Susan a key member of our inteGREAT team.

What's your role at Pipitone, and what are some of your primary responsibilities?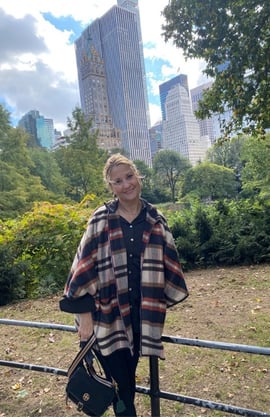 As a senior interactive project manager, I lead Pipitone's digital website projects. I work on projects such as website builds and redesigns, new applications, site maintenance and site-related solutions for clients.

Where did you attend college?
I earned both a bachelor's degree in marketing and a master's degree in business administration from West Virginia University.

What led you to Pipitone? Tell us about your previous work experience.
I worked in various roles at the Pittsburgh Post-Gazette for 22 years, from marketing to HR and IT. I also worked as a digital solution lead and technical trainer for Mylan Pharmaceuticals, an ecommerce business analyst at PPG, and held roles in digital publishing for USA Today.

Can you tell us about an accomplishment you're proud of?
I helped implement a new project management system at Mylan that streamlined a previously disorganized website management workflow process.

What are some fun facts about you?
My family and I host a big tailgate at all the WVU home games, I have two grown daughters and two goldendoodles, and I love spending time in the mountains at Seven Springs and out west.

What do you like most about working at Pipitone?
I love the energy, talent and dedication of the people – it's clear that people here care about what they do. The variety of clients keeps things interesting and challenging. I love my department, too. We've got a great digital team.
Susan, along with the rest of the Pipitone team, does great work with great people. To learn more about Pipitone's integrated marketing and communications services, please visit our website.
We're also hiring! If you're a passionate, creative communications professional, please visit our Careers page to learn more about our open positions. We look forward to hearing from you!
December 14, 2021 at 10:31 AM