The results are in...and they may surprise you
If you're a Spotify aficionado, you've more than likely already analyzed and shared out your top artists, songs, albums and podcasts of 2022, or even debated whether Spotify really captured your "listening personality" in its annual viral marketing campaign Spotify Wrapped.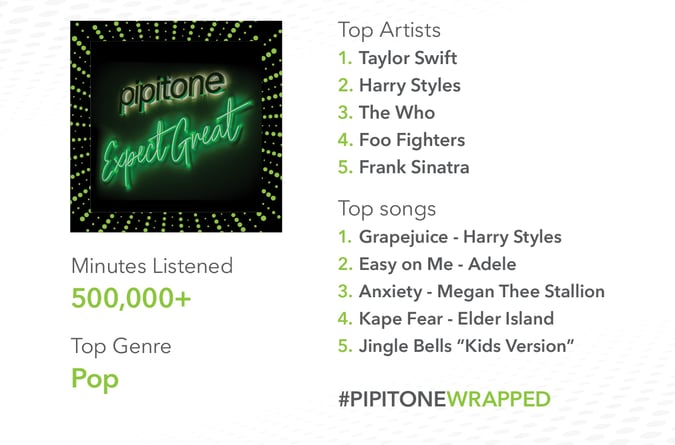 Here at Pipitone, we take Spotify Wrapped and music preferences seriously. Curiosity and excitement got the best of us, so we polled the Pipitone crew to see what types of insights Spotify gave them. There were many genres in common among the team, yet artists of the year varied from Taylor Swift to Frank Sinatra. The Pipitone team also jammed to Elder Island, Harry Styles, The Sacred Souls, The Who and Foo Fighters.
Aside from listening to a combined 500,000+ minutes of tunes, the team undeniably chose podcasts over audiobooks and recommended a variety of songs from some of their favorite albums like Ten (Pearl Jam), The Tipping Point (Tears for Fears), Hemispheres (Rush), Growin' Up (Luke Combs), and Special (Lizzo).
After analyzing all the data, the most interesting takeaway was learning how many "Swifties" we have in the house...
To learn more fun facts about the Pipitone team, check out our Culture page.
January 27, 2023 at 10:30 AM