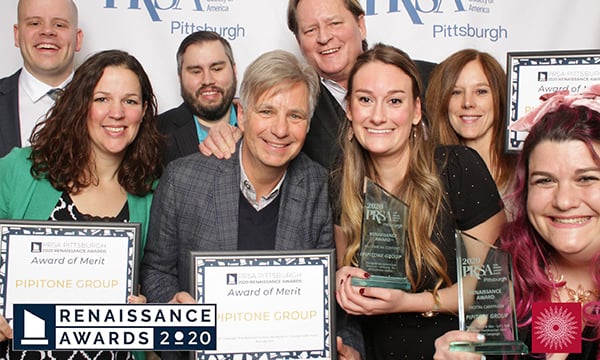 Pipitone Group (Pipitone) and two of its clients started the new year just like they ended the last one—being recognized for award-winning work.
In December 2019, Pipitone and Peoples Natural Gas attended the AMA Marketer of the Year Awards and received top honors in the B2B Brands and Services Marketing category for their work on Peoples' "Let's Talk Energy Campaign."
Then on Thursday, Jan. 30, the team took home five Public Relations Society of America (PRSA) Pittsburgh Renaissance Awards for its work, again, with both Peoples Natural Gas and Presbyterian SeniorCare Network (PSCN).
Pipitone, Peoples Gas and PSCN earned the Renaissance Awards' top honors against an impressive lineup of the region's most talented communicators, marketers and public relations professionals. The competition ranged from local agencies to corporations and nonprofit organizations.
The award-winning work from the Renaissance Awards included:
Peoples Natural Gas Let's Talk Energy Campaign
Peoples Natural Gas earned three overall awards including a Renaissance Award for its digital campaign created to promote using natural gas as a source for construction heat. Using precise digital audience targeting, the following are a few examples of the award-winning creative used to help Peoples meet its business goals.
Pipitone and Peoples also were recognized with Awards of Merit for their Combined Heat and Power Campaign in the New Products and Services category, as well as the Combined Heat and Power Videos in the Multimedia Category.
Watch one of the award-winning videos here.
Presbyterian SeniorCare Network Uniquely You Campaign
PSCN earned two awards, including a Renaissance Award in multimedia, for its Uniquely You recruitment videos and an Award of Merit for its Careers with Heart Recruitment digital campaign. Here is one of the Renaissance Award-winning videos that was used to help fill critical rolls for PSCN over the past year.
About the PRSA Pittsburgh Renaissance Awards
The event welcomed nearly 250 of Pittsburgh's most talented communicators to celebrate the 2020 Renaissance Awards. They were independently evaluated by a panel of judges from the Public Relations Association of Western Michigan chapter and scored upon impact. Every year, each PRSA Chapter is assigned another chapter to evaluate their submissions. Top entries received a "Renaissance Award" distinction and runners-up received an "Award of Merit."
About the AMA Marketer of the Year Awards
This prestigious awards event celebrates innovative, results-driven marketing campaigns in the Greater Pittsburgh Area. From traditional marketing efforts like print and mass media to digital campaigns to special events and market research, AMA Pittsburgh recognizes the outstanding achievements of local marketers and advertisers.
February 4, 2020 at 1:14 PM