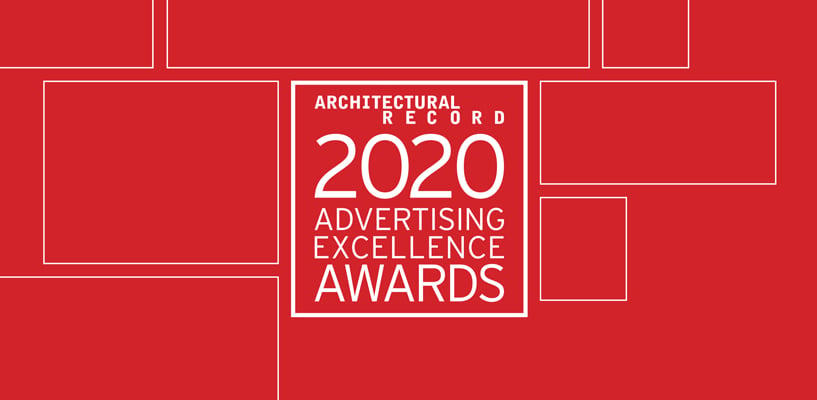 At Pipitone Group (Pipitone), it has become tradition for us to accompany a group of our building products clients to the annual American Institute of Architects (AIA) Conference on Architecture where we celebrate their marketing efforts at the Architectural Record Advertising Excellence Awards Breakfast.
While this year was a little bit different because A'20 was cancelled due to COVID-19, the annual awards still took place virtually and yielded great results for several of our clients. The virtual awards ceremony featured a panel of judges who selected the award winners and recognized the most noteworthy advertising in the building and design marketplace.
Continuing our string of 10 consecutive years, Pipitone is proud to have partnered with three award-winning clients this year—Sloan, Vitro Architectural Glass and Bobrick Washroom Equipment—who racked up a total of seven awards
Key takeaways from panel
"Listening to architects who are a key audience for building product manufacturers, is critical," said Arnie Begler, Principal, Chief Strategy Officer. "It allows us to communicate what is relevant to them making our marketing more likely to resonate.
The architect panel identified several criteria when judging the advertising that ran in Architectural Record magazine or on their digital properties January through March of this year:
Keep it Simple– Show the product without cluttering the page.
Picture Perfect– Utilize thoughtfully composed photography to generate reader interest without the use of excessive copy. One photo can let the reader know everything they need.
Show and Tell– Show the product in action to showcase features and benefits.
The Headline– Use an effective combination of imagery and copy, along with the use of text in non-traditional and creative methods.
Closer Look– Provide a close-up shot to highlight the product, while providing a holistic perspective that shows how the product works within a complete system.
The panel of judges also proposed possible new product development opportunities for Building Product Manufacturers (BPMs) suggesting they concentrate on items that impact hygiene and sustainability.