At Pipitone, play is as critical as work
Throughout the summer, Pipitone Group (Pipitone) came out to play during various eventful community gatherings. Pipitone likes to dedicate time for connecting inside and outside of the agency walls to build rapport. Various events, such as a Community Night at a Pittsburgh Pirates game, our Summer Solstice Barbeque and Art in the Backyard brought employees together and fostered environments for creative and collaborative fun.
The summer festivities commenced with the Northside/North Shore Chamber of Commerce hosting Pipitone and other Northside and North Shore businesses at a Pirates game to celebrate its community day. Nothing screams summer like a tailgate and baseball game on a warm summer evening. Before the first pitch, Pipitone staff mingled over tasty food, drinks and fun games with friends, family and some of the great businesses in the area.
Pipitone made its way to the ballpark and witnessed a competitive game that saw the Pirates rally from an early 7-1 deficit to win 8-7.
"Pipitone Group takes pride in being part of the fabric of the Northside community," said Pipitone Content Strategist, Alex Oltmanns. "To be able to share in such a great event with other local businesses was a great experience."
Pipitone has been a member of the Northside community since its inception on Observatory Hill 25 years ago.

Pipitone celebrated the summer solstice – as all sun lovers should – with a collaborative backyard barbecue. Thanks to the master organizational skills of Office Ambassador Tina Olszewski, everyone contributed to the barbecue, creating an atmosphere full of great food and people. Employees marveled over each other's creative cooking, and some recipes were too good not to share. See below for an irresistible, five-layered taco dip recipe from Art Director Maggie Matela. Chief Creative Officer Jeff Piatt and Manager of Administration Francine Schmidley, demonstrated their grill master skills and cooked up hot dogs and burgers for the entire office.
"When I interviewed here, I could sense a family-feel, which inspired my decision to join the Pipitone team," said Natalia Buczek, the newest Project Coordinator at Pipitone Group. "The summer solstice barbecue reaffirmed that community feel, and I was able to get to know my co-workers better in a casual setting."
At the center of every barbecue is great food, but the real recipe for a successful company barbecue is collaboration, creativity and great people.
Click the image below for Maggie's glorious taco dip recipe: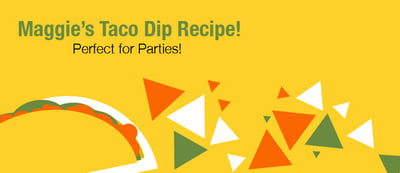 In late July, Pipitone took a half day and explored world-renowned contemporary art in the North Shore during a new collaborative event we titled "Art in the Backyard." The staff was split up into two groups, each consisting of employees from every department. One group enjoyed a guided tour at the Mattress Factory and Randyland, while the other had a guided tour at the Andy Warhol Museum. After a day of art, Pipitone left inspired by the collections of Warhol, Randy Gilson, Yayoi Kusama, James Turrel, Os Gemeos and Dennis Maher. These artists, each with different styles and expressions, all amplify the importance of being curious, confident and creatively bold. This new community event is a part of a creative initiative as Pipitone is motivated to have unconstrained creativity: to imagine and express unconventional ideas.
The day closed with a farmhouse brew at the Spring Hill Brewery, a local Northside brewery. Here, the two groups reunited and talked about the art that they had just experienced. The event will occur again in September, with the two groups swapping museum tours.

Though summer is coming to an end, Pipitone community gatherings are not. We are looking forward to more events this year, such as Art in the Backyard Part II, the annual Volunteer Day and our Halloween Party!
August 8, 2019 at 1:35 PM