Dafne joined Pipitone Group in October 2020 with a wealth of digital marketing and advertising experience. Read on to learn more about what makes Dafne a true inteGREATor.

What's your role at Pipitone, and what are some of your primary responsibilities?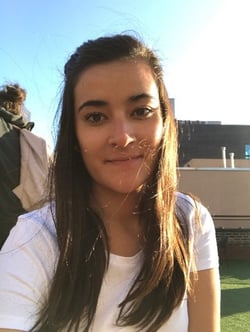 As a Digital Strategist at Pipitone, I develop and implement digital strategies for clients, manage databases, develop emails, and manage campaigns in Google Ads and Facebook. I also work to optimize websites by developing SEO strategies, performing keyword research and reviewing website analytics.

Where did you attend college?
I grew up in Mexico City and majored in business development at Tecnológico de Monterrey in Mexico.

What led you to Pipitone? Tell us about your previous work experience.
I've always worked in a digital environment. I started out as an intern at a digital advertising agency, then I worked at DDB as a digital project manager. From there, I got a job at Google Mexico, where I got the opportunity to learn how marketing can make a business more profitable. It made me see marketing in a totally different way.

Can you tell us about an accomplishment you're proud of?
I would say my biggest accomplishment has been that every step I've made has led me to where I'm at now. I love the work I do, the brands I work with and the company I'm a part of. I also love learning new things and applying my knowledge to my work every day.

What are some fun facts about you?
I have a bunny that still lives in Mexico, I practice CrossFit, I have a scuba-diving license and I like to run.
What do you like most about working at Pipitone?
I love how everyone here works together. The project teams for each client are chosen carefully and strategically. There's just so much experience here. People at Pipitone earn their positions because they're great at what they do. It's an awesome place to work.

Dafne, along with the rest of the Pipitone team, does great work with great people. To learn more about Pipitone's integrated marketing and communications services, please visit our website.
We're also hiring! If you're a passionate, creative communications professional, please visit our Careers page to learn more about our open positions. We look forward to hearing from you!
August 30, 2021 at 1:40 PM