Chris joined Pipitone Group in December 2020 with experience in content writing, marketing and public relations. Read on to learn more about what makes Chris a valued member of our inteGREAT team.

What's your role at Pipitone, and what are some of your primary responsibilities?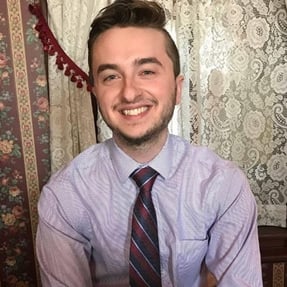 As a content specialist, I perform a wide variety of writing and public relations duties. I write anything you can imagine for clients, from video scripts and feature stories to website content, media releases, case studies and social media posts. I also compile monthly media monitoring reports for clients, assemble media lists and more.

Where did you attend college?
I earned a bachelor's degree in journalism and public relations from Indiana University of Pennsylvania (IUP) in 2018.

What led you to Pipitone? Tell us about your previous work experience.
After graduating from IUP, I worked for over two years as a marketing assistant at Tri Rivers Musculoskeletal Centers, where I wrote patient testimonials, monthly blogs and other website content. While in college, I interned with the Pittsburgh Technology Council, the Indiana Gazette and the Pittsburgh Sports Report.

Can you tell us about an accomplishment you're proud of?
While working as editor-in-chief at my college newspaper, The Penn, our staff won multiple Student Keystone Media Awards. It was gratifying to see the hard work of our staff get recognized on a larger scale.

What are some fun facts about you?
Movies and sports are my two biggest passions. I log every movie I watch and rank them all at the end of each year, and my girlfriend and I try to go to as many Pirates games as possible every summer.

What do you like most about working at Pipitone?
I really like the variety of work I get to do here. Working in an integrated marketing agency allows me to learn and implement new strategies to best serve clients, and I enjoy that challenge. On top of that, the people at Pipitone are extremely knowledgeable and friendly. Everyone is more than willing to answer questions and help others.
Chris, along with the rest of the Pipitone team, does great work with great people. To learn more about Pipitone's integrated marketing and communications services, please visit our website.
We're also hiring! If you're a passionate, creative communications professional, please visit our Careers page to learn more about our open positions. We look forward to hearing from you!
January 28, 2022 at 3:51 PM