After two and a half days at the BOMA (Building Operator and Managers Association) International Conference & Expo in the Boston Convention Center, the return to Pittsburgh created an opportunity to reflect on what changed and what stayed the same during this pandemic.
Like many other trade shows, BOMA was dark for 2020, but returned in 2021 as the first one on the schedule for our Pittsburgh agency. Bobrick Washroom Equipment is launching two new products in response to the heightened commercial real estate needs of improved air quality and hygienic environments now and into the future. The PureDri Sanitizing Hand Dryer utilizes UVC technology to purify the air, neutralize airborne and surface pathogens and dry your hands in the restroom. The PureSphere Air Sanitizer cleans the air for safety and hygiene in other, more open commercial areas. Bobrick needed to vet the product with potential users, gauge interest and secure some leads. Thus, the journey began on the BOMA expo floor – a perfect destination amid many other purifying, cleansing, disinfecting and hygienic solutions for the building industry.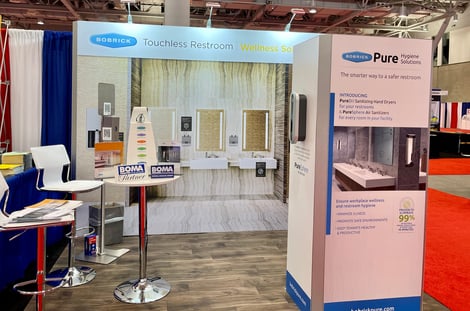 Conference attendance has changed. The Boston Convention Center requires masks, and registration started with the question, "Are you red, yellow or green?" to measure of how much social space you prefer. The registrars were running out of the green lanyards because people were there to meet, mingle and connect. On the show floor, attendees wore masks, but the question, "Do you really have to?" prevailed. Many mixed signals about masks on or off arose; it came down to personal preference and respecting the person you were talking to.
But what really triumphed was the innate desire to connect. BOMA International is made up of many local chapters that wanted to come together – and they did. Individual meetings, the showroom floor, the welcoming party, hotel bars and more all enabled attendees to gather in person to learn, discuss, and grow; they celebrated being together. BOMA, like many other associations, embraces the social animals ready to interact, discuss and hug. Yes, hugging is back.
Many businesses may be hesitant to invest marketing dollars in trade shows, especially with COVID not quite in the rearview mirror yet, but Bobrick found value in BOMA. We got leads. We gathered valuable information. We had stimulating business conversations. And hey, we were "green." At the end of the day, we engaged, listened to and interacted with our fellow businesses to sell products that can help make the world a safer, more hygienic place – it doesn't get much better than that.
We look forward to the opportunity for more warm welcomes to come.
October 14, 2021 at 9:02 AM