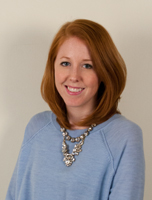 Pipitone Group (PG) is excited to welcome Megan Dombek to its team of integrated marketing professionals. She is joining the PG team as an Account Supervisor. In this role, she will manage client relationships, lead internal project teams and identify growth opportunities for clients, working in concert with all our great people.
"We're very glad to welcome Megan to our Account Services team," said Kim Tarquinio, Director of Account Services, Pipitone Group. "Her wealth of experience and success with developing client relationships and managing accounts makes her an excellent addition to our team of integrated marketers. I know she will excel in her new role."
Dombek earned her bachelor's degree from the University of Pittsburgh, where she also earned her master's degree in Business Administration, Marketing & Strategy from the Joseph M. Katz Graduate School of Business.
Dombek joins Pipitone Group after gaining experience in account services as an Account Executive for MARC USA in Chicago and most recently as an Account Executive for Gatesman+Dave. Her other previous marketing experience includes working as an Account Coordinator for MarketSense and a marketing intern for ChemImage.
"I am extremely excited to join the Pipitone team," Dombek said. "Pipitone's work for their clients speaks for itself, and I am eager to continue to grow as a marketing strategist with such a strong agency."
November 18, 2014 at 1:49 PM