Many things have changed over the past year, and our lives have changed with them.
We did away with the morning commute, working from home nearly all of the time. We swapped handshakes for hand sanitizer and social distancing. We celebrated the holiday season over video calls, joining from our separate homes as glowing screens brought us together.
Amid all these changes, Pipitone Group managed to start this year a lot like we started the last one – collaborating with our clients to create great work.
Recently, Pipitone was proud to be recognized alongside two of our award-winning clients by the Pittsburgh chapter of the Public Relations Society of America (PRSA) at its 2021 Renaissance Awards show. It's an honor to see the work we've created in partnership with our clients awarded at this level. We're also proud that this year's event was co-chaired by Alex Oltmanns, a public relations strategist on our strategic communications team.
The annual PRSA Pittsburgh Renaissance Awards show is always a memorable evening – this year's virtual edition was no exception. During the show, which took place on January 28, we received two awards:
Pipitone, MCP and NOVA earned recognition against a spectacular lineup of the region's brightest marketers, communicators and public relations professionals. The competition included corporations, nonprofit organizations and agencies – all located within the Pittsburgh region.
Read on for more information about this inteGREAT work!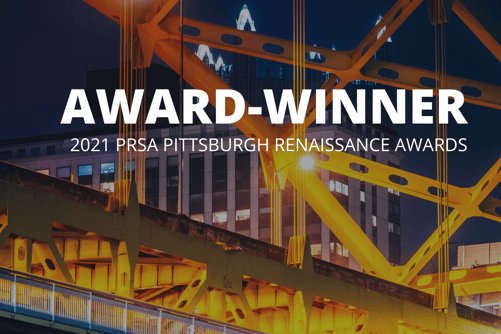 NOVA Chemicals: Trade Media Relations Campaign
NOVA is an innovative developer of advanced polyethylene (PE) resins for plastic packaging and goods. The company is aggressively positioning itself as a technology leader through product development and prominent roles in several sustainability initiatives, including its own extensive efforts to advance the achievement of a circular plastics economy. In collaboration with Pipitone, NOVA is using a comprehensive trade media relations program to make its customers, prospects and the industry at-large aware of these efforts.
Ultimately, NOVA's goal was to become the first PE producer that plastic film manufacturers, film converters and brand owners think of when seeking a product development partner. As an agile, responsive and innovative company, NOVA sought to be top-of-mind among its peers and determined that earned media was the way to go.
Working closely with the client, Pipitone's PR team secured consistent coverage for NOVA in multiple key trade magazines, including Sustainable Plastics, Plastics News, Chemical Week, Plastics Technology, Plastics Today, Canadian Plastics, Plastics in Packaging, and Packaging Digest. Overall, the campaign reached more than 1 million readers during a one-year period that ended in September 2020! These efforts helped NOVA achieve the higher level of name recognition it desired and positioned the company as a trailblazer for technical and sustainability advances in the PE/plastics packaging industry – both nationally and internationally.
Mission Critical Partners: Conference for Advancing Public Safety
Mission Critical Partners (MCP) is a leading provider of consulting services and data integration, network and cybersecurity solutions specializing in transforming critical-communications networks into integrated ecosystems that improve emergency response outcomes. In pre-pandemic times, MCP looked forward to trade show season every spring – trade shows are a prime opportunity to connect with clients and prospects. But in the wake of COVID-19 closures, MCP needed to find a new way to network and continue to drive pipeline growth.
Enter the Conference for Advancing Public Safety. A team from Pipitone worked alongside MCP to make this virtual, three-day conference engaging to relevant audiences and fruitful in generating new leads for MCP. The conference also expanded MCP's thought leadership footprint in the public safety industry by providing workshops with industry leaders and subject matter experts. Conference attendees were even able to select the sessions they wanted to attend – allowing for a fully customizable experience.
Along the way, we helped MCP select the best virtual platform for hosting this conference and developed a microsite and outreach plan to increase awareness of (and attendance at) the conference itself. These efforts proved successful. The conference drew 500 attendees and generated 167 qualified marketing leads, exceeding MCP's goals for the event!
About the PRSA Pittsburgh Renaissance Awards
The 2021 Renaissance Awards event welcomed over 130 of Pittsburgh's most talented communicators to celebrate their victories. They were independently evaluated by a panel of judges from the PRSA Colorado chapter and scored upon impact. Every year, each PRSA Chapter is assigned another chapter to evaluate their submissions. Top entries received a "Renaissance Award" distinction and runners-up received an "Award of Merit."
February 22, 2021 at 9:17 AM